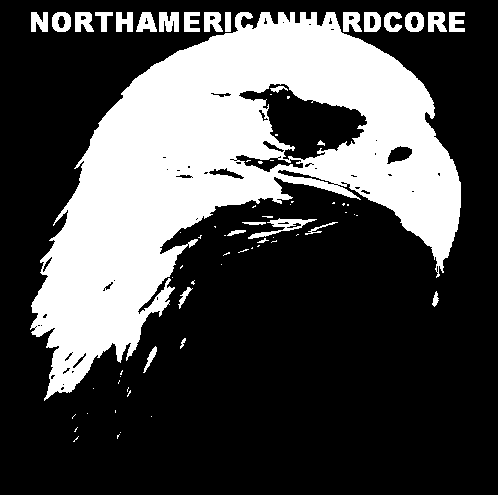 NORTHAMERICANHARDCORE IS LOWBITRATE NETLABEL
UNCOMPROMISING MUSIC FROM AROUND THE PLANET












NAHC099.ZIP
FINALLY! what youve all been waiting for! 50 tracks from 40 artists, clocking in
at a whopping 30 megs and 3 hours! DISSED BY THE QFS VOLUME 2 IS UPON US!! leech
NAHC098.ZIP
LOW BITRATE NOISE RAISE VOLUME. turn up please. enjoy this small release.
NAHC097.ZIP
more harsh noise from MPLS BETTER NOISE FOUNDATION
NAHC096.zip
disthroned agony, brr split. ~50 minutes of "harsh" noise.
NAHC095.zip
collected solos, by alexander vogel, a talented young reed player from california
NAHC094.zip
dj redskeye - reverbeid: shit noise, gabber, "digigrind"
various sorts of audial garbage for the advanced listener
NAHC093.zip
northamericanhardcore is PROUD to release the abortionist's tribute to the great
freedom fighter juba, who kills asshole americans for his people. Allahu Akhbar!
NAHC092.zip
"haute couture" =microtonal feedback improvisations from three company, with sexy jpeg.
NAHC091.zip
weird expirimental electronics with some techno in there by manuela gurkcy
its fucking called schuhschnabel. and its fucking great, so get it okay!?
NAHC090.zip
northamericanhardcore turns 90 with this quality powerelectronics release from
disthroned agony, the united states most prestigious and respected p.e. band
NAHC089.zip
gameboy music from overthruster, titled 05
NAHC088.zip
no input mixer project, audiomulch noise classic and serious, featuring
various american noise genius artists from northamericanhardcore catalog
includes small kit to create own tracks in similar fasion. enjoy
NAHC087.zip
weight: more supreme +fun mentalism by scottish breakcore prodigy acrnym
NAHC086.zip
hardcore midwest tracker electronics from artbreaker! great stuff, true like darkthrone
artbreaker: fuck the industry. four tracks and thirteen minutes of total excellence.
NAHC085.zip
1061 by blatta, a great multimedia release consisting of noise, including a video
NAHC084.zip
NORTHAMERICANHARDCORE IS PROUD TO PRESENT: an eccentric genius
covers the ENTIRE ALBUM of prince's PURPLE RAIN, with only his voice!
fucking incredible! the best thing ever saved special for june 6th 2006 666!
NAHC083.zip
MPLS PAIN CITY by DISTHRONED AGONY, satanic and
terrifying power electronics from modern leaders of the sound
NAHC082.zip
brutal noise from HAGONY, which contains members of kill the runt and
disthroned agony... heavy, crushing, scathing shit out of minneapolis
NAHC081.ZIP
COCK E.S.P. + MPLS B.N.F.
split from two mpls noise masters.
NAHC080.ZIP
PANDA BEE's debut release on northamericanhardcore! this
MPLS resident and avante-garde noise genius has been pumping this shit out
expect another couple of great albums from this member of disthroned agony
oh and its called "soundtrack to 9/11" isnt that funny? HAW HAW HAW
NAHC079.ZIP
a live recording from overthruster performance at
the "pleasure dome" house in minneapolis minnesota on december 10th 2005
lots of noise and some breaks and pounding bass gabber death. fi true headz ONLY
NAHC078.zip
heavy fucking brutal noise/power electronics from the twin cities and greater midwest
most prestigious and brutal band, DISTHRONED AGONY, this is their second
release, collaborative venture 'twixt the two noise heavyweights ovr +pandabee
NAHC077.zip
respectable noise from ne minneapolis master MASON BUTLER
who has been involved in a number of high quality noise releases
and noise performances in and around the twin cities for years and years.
SUN COMING OUT, its cheerfully oriented to happiness and extreme cold
NAHC076.zip
heavy fast brutal harsh noisegrind from france, a live set in
1999 from ORGIAK (ripit, skaloto) GRINDS YR FACE!!
NAHC075.zip
fuckin' REALICIDE live performance interviews
harsh punky speedcore & body shredding video
northam presents: contemporary hardcore
NAHC074.zip
bit is dead trend, by overthruster. its gb stuff.
NAHCO73.zip
WEED by intellectuality its fucking FUNKEE +tough IDM
IDM and HARSH breakhop BANGING and fucking and shitting
NAHC072.zip
UNSUCCESSFUL HANDSHAKE, a former minneapolis resident gifts us
with this deliscious double release of classy idm and raw gameboy
pants volume 1 and pants volume 2, respectively. DOWNLOAD IT SON
NAHC071.zip
toiletooth, minnesota grown, has made hiphop for about 8-10 years before he suddenly started making
his 3rd release; "my favorite food." this is his first attempt at a purely instrumental album, spawned
by his dark decent into self hatred and drugs. its fucking good, so get it
NAHC070.zip
DJ LOVECHOAD. make no mistake. plunderphonics. epic.
NAHC069.zip
finally after more than a year of waiting, the homo alono ep is out! featuring the original
chart-smashing single by k9d, with the granular noise remix by MISTER DENSITY and the harsh
dark ambient industrial remix by overthruster... realized in all of its 9 meg 24 minute glory
NAHC068.zip
2 tracker ROCKETWORLD, by DJ AFEKS TVIN, russian nanobrutal musician,
Brutal Industrial Mosh.Earache Breakcore War. Violent Redneck Mash-Up Gabbacore. Scream
Terror Noise.Country Death Metalcore. Heavy Grind Gay Trash.UK Swampcore Emo Krust. Tech Step
New Wave Gothic Metal.Old Skool Bootleg Grind-Hop. Military Indie Electro Folk. 'nuff said.
NAHC067.zip
broken dsp mangling drug gab-break-rap-dfxcore from the abortionist,
called "praying icon" also check out his new shit on STARSINREHAB...
NAHC066.zip
ACRNYM and OVERTHRUSTER got a split, with two names and four pictures
and two text files and eight tracks! the acrnym side is futuristic canadian style-idm and the
overthruster side is providence tracker-prog. enjoy the scottish/american brain explozion!
NAHC065.zip
DAGIM, by GOLDEN WIRE... 13 tracks, 40 minutes or so of high quality sound, from
the northamericanhardcore favorite, lyrical and emotive, expressive and new! just
finished last week or so, fresh off the encoder and onto your hard drive and ears
NAHC064.zip
3:46 of raw grindcore from bastard by rape, who have also had releases on 20kbps.
uncompromising, anti-corporate, self titled, crusty. featuring live drums.
NAHC063.zup
GOLDEN WIRE. GREAT NOISE. LEECH. "LAZERGUN"
NAHC062.zip
a new release by overthruster, all remixes of other stuff that got released on
other netlabels, if you been following his crappy music, you will maybe rexognise
something or other... it sounds like doormouse getting teabagged by passenger of shit
NAHC061.zip
breakcore release from lost a.k.a. lost kluster, who has also appeared on
20kbps and runs reamp3, and his buddy twinker. northam fans will
not be dissapointed... not be dissapointed... not be dissapointed...
NAHC060.zip
DISHTRONED AGONY presents us with their debut ALTAR OF SACRIFICE.
this is INCREDIBLE P.E., blending digital harshness and analog heaviness
to create a new but classic sound that will peel your damn flesh off
NAHC059.zip
nasty 909 harsh disco club anthem skipping shoegazing text to noise from
salome clausen, who is just off from tour in canada. push your pussy on
the subwoofer for maximum grindeng comfort on this ogg vorbis recording
NAHC058.zip
four expressive, emotional and expirimental free jazz tracks by layers.
if you pay close attention, you just may hear the "red phone ringing"
NAHC057.zip
yeah, its a big tymers remix or some shit, from AVF71000 AUDIO LEAGUE
whatever the fuck that means, featering overthruster + lovechoad rmxs
NAHC056.zip
Legwarming by Legwarmers: quality
noise with gabber kicks. GET NOW!
NAHC055.zip
brutal speedcore screaming vocal gabber death noise asshole brainvarnish from ohio
its fucking REALICIDE and its fucking AWESOME mixes of some stuff and a live show
NAHC054.zip
awesome hevee breakcore by PSYCHISCHE SIECH entitled "besser weder nüt aber nid veu"
NAHC053.zip
called KILLING FORCE EP, by GRONINGEN HORROR CREW, its fucking
hardcore techno or hardstep or something like that, gabba, with noise.
danceable and tough, you like that heavy terror shit then youll love this
NAHC052.zip
gorgeous noise with musical elements, with choirs and free piano and heavy drum loops,
but mostly great noise, its MORONTRON, title and author, who also is the chip hero
BITROID, but that might be a secret. noise for people who like efterklang
NAHC051.zip
so it's self titled as 'INSTADENSITY', running the title and his name together to circumvent
the paradigm established by album-author mind-sets. its frickin' tangerine-dream idm, bitch
NAHC050.zip
DISSED BY THE QFS: a 25 artist compilation featuring chip and other
in various styles, more accurately representing a broad section of the
musical world at large which we have felt was purposely left out of
micromusic's supposedly public uploading system. enjoy!
NAHC049.zip
dense harsh noise and brutal dark ambient, intense and bewildering, full and textured,
in the traditional style of a true lover of sound and noise! the GOLDEN WIRE, ON BONDAGE
enjoy this second release, a sexual marvel @ 37kbps mono ogg vorbis encoding!
NAHC048.zip
great noise, power+ expirimental electronics, gorgeous at times, always interesting and passionate!
"BATTERSEA" by minneapolis, minnesota's own GOLDEN WIRE. if you dont like this, you're fucking dumb!
NAHC047.zip
second .zip by silhouette of a dead life, two new tracks, in the same sort of vein, if not a little more
thoughtful than the previous two tracker. great stuff, dark lo-fi masterpiece, with awesome cover art!
NAHC046.zip
AHX MURDERER, by ANAKIROB, who runs forhorse.org
chip break, no cheesy arps, only 27k... play .ahx files in deliplayer
NAHC045.zip
RINGER by K9D loopy monomachine music
NAHC044.zip
another track from the abortionist, its very short, but thats because its BLITTERCORE,
which is even faster than speedcore or noisecore or any of those other pussy ass cores
NAHC043.zip
"my dad beats the shit out of me," a live recording of verbal domestic abuse, by Nick,
who is from massecheussetts. lots of screaming and swearing. "parental advisory"
NAHC042.zip
MECHA000: deep, crunchy, atmospheric, majestic, synthetic.
huge sounds, with ornaments + variations. by overthruster
NAHC041.zip
an independent hiphop release, entitled "crackers with wine and no cheese"
two tracks, beats and rhymes and effects and scratching. both producer and mc are
from minneapolis, usa, as well
NAHC040.zip
Mason R. Butler gifts us all with a happy breackore track
mysteriously named "My Finger In the Bush of Ghosts"
NAHC039.zip
from DJ LoveChode, entitled "Legendary Dj Playlist". fine fine plunderfonikx
NAHC038.zip
brutal, punky grindcore from BASTARD BY RAPE, who have
also released on 20kbps records. extremely evil vokills abound in this
rampage of unbridledly aggressive thrashy hardcore brutality
NAHCO37.zip
gothic dance music, by "silhouette of a dead life" if you like joy division,
it is unclear if you will like this, but it is good nonetheless, and very catchy.
silhouette of a dead life is a minneapolis, usa artist, and a great guy
NAHC036.zip
new gameboy music from overthruster, the inventor of the gameboy, and the breakbeat.
enjoy the semi hiphop, slow warpy tracks... or dont, overthruster dont give a FUCK
NAHC035.zip
Rocking hardcore gabba terror from italy and holland! a split featuring GABBARAVER and the
GRONINGEN HORROR CREW! two tracks from each, with GABBARAVER's funky swingy gabba
style and GRONINGEN HORROR CREW's expirimental speedcore. guearreanteed to pound ears and guts.
NAHC034.zip
IMO the best techno, jerky and funky and forceful and raw: by
the SEAHORSE DRIVERS! you will regret not leechin it.
NAHC033.zip
a breakcore/ragga release from freax 3EHZ6NZ. its entitled SMOAK WEEEED
and its their second release here @northam, and its about smoking weed.
NAHCO32.zip
an hour of great noise from the MINNEAPOLIS BETTER NOIZE FOUNDATION, who are
fed up with all the wussy noise bands around the midwest. its called "dead cunt"
NAHC031.zip
this time its the abortionist, and this time its a full length album. this fucker wont
even fit on a compact disc: an hour and 26 minutes of garbage noise and beats to blast
NAHC030.zip
a nice dj job of some old country tunes by DJ LOVECHOAD, who happened to
appear on the instachoface release as well. this one is pretty mellow
NAHC029.zip
SUPER GREAT CASIO MUSIC by the CANCER KID, mostly recorded with a single keyboard.
definitely one of the best musics ever witnessed, with wonderful catchy melodies.
NAHC028.zip
INSTACHOFACE, by instant, sheetface and lovechode: great live noise from masters of the form
NAHC027.zip
WALL OF HYPERTIME, a full length release from THE ABORTIONIST
made entirely on a korg es-1 with samples from the movie "day of the beast"
NAHC026.zip
this release is AWESOME! super good forward thinking indy rock from MPLS band
MORE MATERIAL! savor the changeups, and this new and interesting sound!
NAHC025.zip
great catchy gabber from italian artist GABBARAVER.
pump pump your fist to the brutal hardcore terror!
NAHC024.zip
proffessional modules from the amiga, by GLORIA YUGO
entitled "i make you feel mighty real". enjoy this quality release
NAHC023.ZIP
satanic-gameboy-deathcore-fetal-post-chipgrind lp, from the oscillation overthruster.
NAHCO2Z.2IP
obnoxious hardcore northamerican gabber from TIMEHEATER, who plays noise and grind up in
massachusetts. throbbing beats and repugnant vocals abound in this great electronic hardcore release...
NAhC021.zip
an awesome noise release from the overthruster and the abortionist
fun and fucky, surprising and exciting!! not to mention a MUST LEECH!!
NAHC020.ZIP
our twentieth release from NORTHAMERICANHARDCORE, where we are dedicated to bringing the best d.i.y.
sounds to anyone that might care to hear them, around the world, for absolutely free. this is what is
important to us, and why the label exists, all the fucking commercial bullshit is our enemy, and this
release is a call to arms, by OVERTHRUSTER, who has already had two other releases
on NORTHAM, called KORYAK RECYCLING. make your best stuff
for free, money is shit and SHIT FOR SHIT!!!
NAHC019.ZIP
a lil' noisy dub reggae styleee version entitled 3FH7 by 3EHZ6NZ! praise JAH!
i mean, SATAN!! leech this shit, smoke a bowl, and pass out on the couch. !!!
NAHC018.ZiP
21 goddamn grind tracks from japanese punk/noise band CHRIST BLOODY CHRIST!
featuring GB EDRUM software. FUCK!!
NAHC017.ZIP
A four track ep entitled bloodofgirl from MPLS BETTER NOISE fOUNDATION
kick back and enjoy the solemn sounds of digital feedback. *!
NAHC016.zip
brutal noise-grind from MPLS' GODSICLE. 99 tracks of hi-fidelity ogg vorbis violence, clocking in at over
OVEr half an hour. grind of this hi-quality + expertise is rare to be heard, especially in free-audio format!

NAHC015.Z1P
the newest, harshest, crappiest "fetaldeathcore" straight out of a filthy trailer park in
SOUTH CAROLINA, USA comes THE ABORTIONIST! low quality mp3 rips your fucking
child out! AND YR FACE OfF!!! DIE!!! (und leech!)
NAHC014.ZIP
a track by SLUTMACHINE, who rocks assholes like it ai'nt nobody's
business. look for slutmachine playing live in the future, if you are ever in MPLS, USA
NAHC013.zip
two module files from the internet zeitgeist HARDLINER, entitled MARINETTI ULTRA. as usual, high quality
release from a world class renowned musician. NORTHAMERICANHARDCORE THANKS YOU FOR YR FILES!
NAHC012.zip
GABBERFISTEN by GRONINGEN HORROR CREW, crushing gabber, brutality,
from holland, where gabber is from! raise yr FIST and BEAT TO THAT GABBA BEAT!
our longest release ever, at a super small 85k!!!! PUNCH YRSELF IN THE FACE!
NAHC011.zip
BRIDEWORK BY BLEEDTIME, an es-1/tracker masterpiece that must be downloaded and listened to at "extreme volume"
NAHCO1O.zip
some central european hardcore entitled "babydoll shitout" by CHICAGO MF, who is comprised of MINIMALIST and MARY LONG, recorded at bABYDOLL reCORDS in aaru, switzerland. ONTZAGWEKKENDE!
NAHC009.ZIP
an hour or so of power elctronix by NORTHAM label head, DETROIT CHRIST. 70 minutes @ 77k.
NAHCOO8.Z1P
the new six track ep by OVERHTRUSTER entitled K3, for lucy. its better idm than those REPHLEX PUSSIES! fuck that shit! NORTHAMERICAN IDM FOR LIFE!
NAHC007.xip
a single track, entitled "NUKE YOU" from сторона обреченной земли. its his second .zip on NORTHAM, made with AUDIOMULCH. turn up the bass on this one + R0X0R!

NAHC006.zip
a downtempo release from K9D, called "male-order bride" 2 great tracks with seething sensuality, and starring vocals from himself and his "ownzu". wank to this, motherfuck!
NAHC005.zip
high density noise from minneapolis wundermensch MISTER DENSITY
who also has a kickass idm release on M3D. leech, or you will surely die!
NAHC004.zip
kickass ogg vorbis encoded noise with MYSTERIOUS FILES from убивающ каждое я встречаю,
whose exact origins are dubious at BEST. shuffle it up!
NAHC003.zip
a track and jpeg from the australian ambassador of asscore, PASSENGER OF SHIT!
who is also on SYSTEM CORRUPT. check out this VERY IMPORTANT RELEASE!!
NAHC002.ZIP
the second fangled download available at NORTHAM, four tracks of shit northamerican dancehall influenced idm from the
:|kREW, minneapolis, USA's notorious electronics juggernaut. enjoy!
NAHC001.zip
this first release is by OVRTHRUSTER, who has also on 20K & MICROBIO. load it down, turn it up!